We get results
Get your brand the visibility it deserves
Are you frustrated with your SEO results? We'll identify your performance gaps and build a Search Engine Optimization action plan for immediate results and a sustained growth path. We're an SEO-first team – it's in our DNA. We believe that 20% of actions drive 80% of results, so we focus on what will move the needle in our SEO services. Ready for results?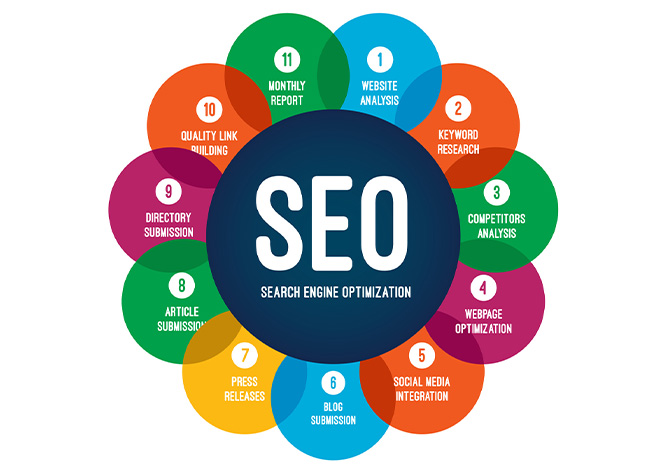 Search engine optimization is the process by which one optimizes their webpage through various methods in order for search engines to favor their website in search engine results. 75% of users never scroll past the first page of search results. Not investing in SEO means lagging behind all your competition and being buried in endless search results that will effectively make your business invisible to your audience. A good SEO strategy can increase your businesses' visibility and drive more online traffic (and foot traffic with local SEO), to your business.

Many companies find themselves in the situation where they don't have the time, personnel or expertise to create and execute an SEO strategy – this is where search engine optimization services come in. As a search agency, Alphametic leverages decades of SEO expertise and industry-know how in order to ramp up your online visibility. We offer SEO services in local search marketing, technical SEO, content marketing, backlink strategies, SEO audits and more.
How it works
SEO Strategy and Solutions
01
01
Technical SEO Audit
As part of our SEO strategic process, we x-ray your website using advanced SEO tools and software. We look at the technical aspects of SEO, like backlinks and 404 errors, to gauge your Search Engine Optimization health. The end result is a winning SEO Action Plan you can implement.
02
02
Keyword Research
Modern algorithms are what determine whether you will show up in front of your customers – or be buried on page 100 of Google.Our team offers effective keyword search strategies rooted in data to give you your Search Engine Optimization efforts the best chance of appearing on SERPs.
03
03
Content Strategy
Get an in-depth analysis of your current content pipeline, and recommendations meant to drive traffic and engage your customers. We develop and execute an SEO-driven content strategy that supports search initiatives, all the way from strategy to digital copywriting.
04
04
Backlink Research
Page and domain authority is what propels websites ahead in Google. With such a high correlation to rankings, we make sure to perform a thorough backlink analysis and offer competitive insights, as well as outreach tactics, to get your backlinks strategy and execution up to par.